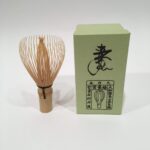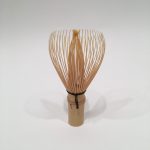 Chasen handmade by Tango Tanimura
£42.00
A handmade Chasen for whisking matcha tea made in the village of Takayama in Nara by Tango Tanimura, the 20th generation of the most famous Chasen making family in Japan. His family have been making chasen for over 500 years and his chasen are used by the grand masters of 2 of the 3 famous family tea schools in Japan, Ura Senke and Mushanokoji Senke.
Each chasen is made from a single piece of white bamboo harvested in the Kansai region and seasoned for three years, meticulously hand-crafted and then split into 140 pieces to make a whisk with 70 prongs. This particular whisk is made in the Kazuho style, one of the most common styles of chasen, and its thin prongs make it particularly good for making foamy usucha. As functional as they are beautiful, these whisks are a pleasure to make matcha with and are durable enough for every day use.
Please note: these new green boxes are different from the old bamboo coloured boxes we used to have. Usually the whisk is glued to the bottom of the box – some of these have come off their base in transit but they are brand new and have not been used.
In stock