We are English, Japanese and Chinese. Over 20 years of tea travels have enabled us to introduce two key concepts to tea: provenance and small tea. We pioneered provenance back in 2008 when we became the first tea company in the world to put the maker's name and location on all our 60 teas including the blends. More recently we introduced the idea of small tea which is tea from small producers who farm less than 15 acres. We work with farms that produce small tea in 6 countries across Asia because we believe small producers of less than 15 acres are better for people, places, and planet than the larger producers who supply 99% of all the tea sold in the West including the teas sold as rare, fairly traded or beneficial to the environment. As with provenance, we are the first tea company in the world to sell tea exclusively from small farms.
PEOPLE
Most of us want the best tea not only in terms of taste but also the best for the people who make our tea. We believe only small tea can deliver this.
The very best teas in China, Japan, Taiwan, Korea, and Vietnam are produced on very small family farms many only 1 or 2 acres in size. It is these tiny farms that produce teas like authentic Xihu Long Jing, Wuyi Oolongs, the most sought after Taiwanese teas, and many of Japan's greatest green teas. And if you take the price paid to the producers as an indicator of a tea's quality, then these small producers' teas are definitely better than the plantations'. In China, Japan, Korea and Taiwan small producers can receive hundreds sometimes thousands of dollars a kilo for their best teas whereas you can pick up a mediocre copy of a famous tea produced by a plantation or garden for a fraction of these prices. Even in tea countries like India where the industry is dominated by plantations we are starting to see small grower and producers' teas that equal or even better the very best estates' produce.
When you buy tea from a small farm where there is ideally no hired help, you know that a much larger percentage of your money is going directly to the people who made the tea. Many tea companies particularly specialist tea companies who sell very expensive teas talk about their direct trade credentials but if they are buying from producers over 15 acres then it is usually only the owners who are benefiting financially not the people who actually make the tea. War on Want estimates that a tea picker on a tea estate often sees just 1p out of a £1.60 pack of tea. The pay levels on tea plantations around the world are absurdly low, often below the World Bank Extreme Poverty Level of $2 a day. In 2013, an Oxfam report surprised many outside the tea industry when it found that it made no difference if the tea plantation was certified by one of the many the well-known international ethical, sustainable, or fair trade organizations as all plantations, estates, or gardens paid similarly low wages because organic and fair trade marks only guarantee the local legal minimum wage no matter how low it is. Many plantations may have welfare issues which may date back to many tea plantations' establishment in colonial times. Just this year the Head of the Indian Tea Board MGVK Bhanu felt the need to say to tell Indian tea producers that "The industry can no longer treat the labour force as they did a hundred years ago and all necessary steps should be taken for their welfare".
PLACES
Visiting tea growing areas across Asia from India to Japan, we have been struck by the problems of tea communities struggling to preserve their local economy and culture. Buying small tea is again a possible solution. Unlike large-scale plantations and gardens with low-paid laborers, which are often owned by companies based elsewhere in the country and sometimes even abroad for tax purposes, small locally owned farms are better placed to enrich the local economy. The extra money that these small farms can contribute also goes towards creating jobs in non-agricultural sectors encouraging more young people to stay in their communities and maintain their traditional way of life if they so choose. More farms also means more choice of teas, more entrepreneurship, and more democracy as there is less concentration of power and wealth.
PLANET
In Asia, the most populous continent on the planet, small farms under 5 acres produce the majority of the region's tea and food. Nearly all the small tea farms we know and work with farm without unsustainable oil based agrochemicals. Many small tea producers also have a form of polyculture, growing a diversity of crops and fruits for themselves to eat as well as to sell. This is important as this plant diversity encourages more biodiversity including the animals that feed on the tea plant's pests so it can boost the farm's yield and quality without resorting to pesticide use. In comparisons of yield per acre, small farms that grow different crops have been shown to have higher yields per acre than large scale plantations with monocultures like those found on larger tea estates and gardens. The writer Michael Pollan believes that "monoculture is at the root of virtually every problem that bedevils the modern farmer". The ISTAAD report set up by the World Bank and several UN bodies recommended against adopting further larger-scale agrochemical farming because of the "increasingly intolerable price, paid by small-scale farmers, workers, rural communities and the environment". Olivier De Schutter, UN Special Rapporteur for Food added "We won't solve hunger and stop climate change with industrial farming on large plantations. The solution lies in supporting small-scale farmers' knowledge and experimentation, and in raising incomes of smallholders."
TOGETHER
Teas sourced or blended by us have been sold at Dean & Deluca, Selfridges, Liberty and Harrods and served at many great restaurants and cafes including The River Café, Balthazar, Umu, Quo Vadis, Café Oto, The Delaunay, Dock Kitchen, Fernandez & Wells, The Espresso Room, Taylor Street Baristas, Poilâne's Cuisine de Bar and Prufrock Coffee.  Tim has written a book in Japanese on tea brewing (究極の紅茶) and he and the rest of the team are currently working on two new books on tea. In 2012, tea cups designed by Tim and Peter Ting to enhance the enjoyment of different teas for the company 1660London won Best New Product at the World Tea Expo and were chosen for the permanent collection of London's V&A Museum. The company has worked with the BBC, NHK, and Fuji television on documentaries about tea. More recently Lu had a leading role in introducing Victoria Wood to Chinese tea in the first part of her documentary A Nice Cup of Tea.
Timothy d'Offay
Over 20 years ago while living in Japan's ancient capital Kyoto, Tim became fascinated by tea culture and the tea growing areas around the city. Using Japan as a base, he soon started to explore the tea traditions of Taiwan, Korea, and Hong Kong as well. These experiences led him to start importing tea in the late 1990s from the people and places he had visited and in 2000 he co-founded East Teas at Borough Market with the tea expert Alex Fraser. Since then he has travelled extensively across Asia to many of the famous tea producing areas in India, Sri Lanka, Vietnam, and China.
Asako d'Offay
Asako comes from a Shizuoka family with a long tea tradition. Her great-grandfather was a pioneering tea farmer who established tea fields in the Mount Fuji area. He was succeeded by his son who produced teas for the Emperor of Japan and who made one of the country's first black teas. Asako continues the tea tradition by working with farms across Japan and also by studying tea ceremony with her aunt, an Omote Senke Tea School instructor.
Zhou Lu
Zhou Lu is the Creative Director of Postcard Teas. She was born and raised in Beijing where she studied at the famous Central Academy of Fine Arts. Lu later won a scholarship to the University of Arts, Crafts and Design in Stockholm before again being chosen to receive a special post graduate scholarship program in Ceramics at the Royal College of Art. Through her love of ceramics, she came to be interested in the special relationship between tea and ceramics. For the past ten years, Lu has been working with some of China's finest tea makers and ceramicists to bring tea and teaware of a quality rarely seen in the West since the 18th century.
Jonathan Nunn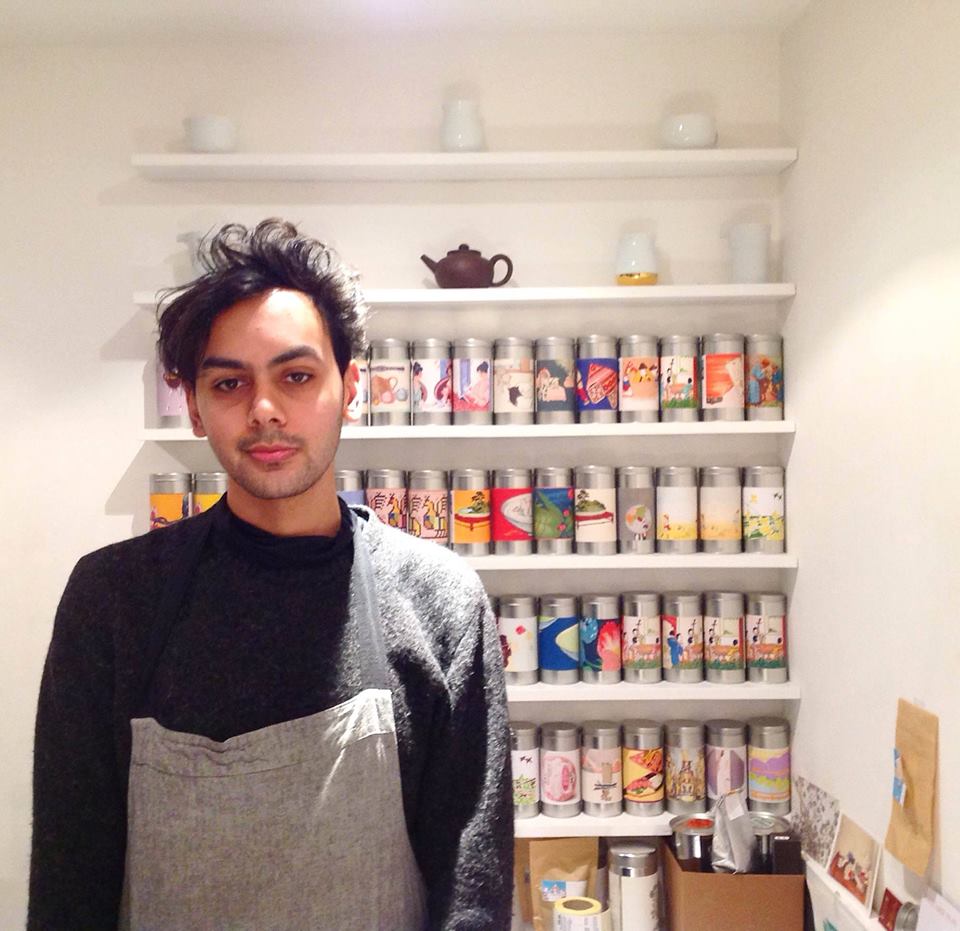 Jonathan has been working closely with Tim for the last five years. Originally he was a customer of Postcard Teas and it was a cup of a single tree dancong tasted at the shop that convinced him that he wanted to work professionally in tea. Of both English and Indian ancestry, he made his first visit to Asia in 2013 when he went to see the small farms of Sahyadri co-operative in Kerala. Jonathan currently manages the shop and website, and is studying Mandarin to further his appreciation of Chinese and Taiwanese tea culture.
Alex Simpson
Alex came to Postcard Teas after working in speciality coffee and has been working closely with Tim since 2012. Amazed by the huge variety of flavor, style and culture that tea has to offer, he has quickly developed an understanding of the teas we import and is now in charge of  blending, grinding and roasting all our teas. In 2017 he made his first visit to Daintree Estate in Australia to learn more about tea processing.
Marie Berne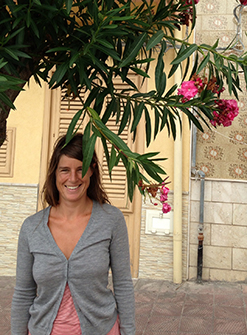 Marie is the French element to Postcard Teas. She holds a Ph.D in Comparative Literature, writes, lived in Hong Hong for five years and worked in the wine industry for a little while. Her journey with Postcard Teas started when she discovered that a tea could last for hours in her palate after having had a cup and when she realized that tea was also made by a real person taking care of his trees, just like good wine. Marie is now responsible for the sourcing of all of our tisanes and has been working with small farms in France and Morocco since 2016.