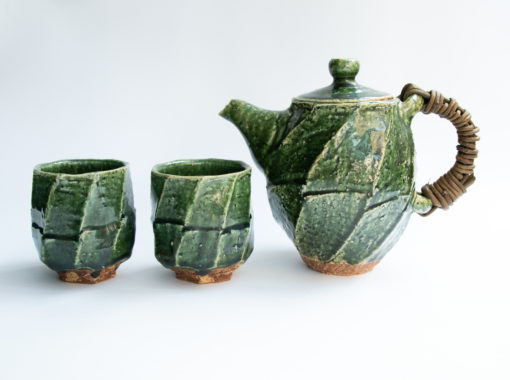 Teapot and Yunomi Set (Oribe)
A handmade, glazed stoneware teapot and yunomi set handmade by Kimura Noritada, a great Kyoto potter.
The pot and yunomi are made out of light brown clay with an accomplished version of the classic Oribe glaze. The glaze has a lovely gradation of colours from dark green to yellow, with deep ridges etched into the surface where the glaze pools. The pot is finished with a handmade handle made out of wisteria wood and a filter mechanism in the spout that ensures a smooth pour and no dripping. As functional as they are beautiful, these are some of the best teapots we have come across in 20 years of working in Japan.
Dimensions of pot: 16.5m height x 15.5cm diameter (not inc. handle). Volume: ~680mls
Dimensions of yunomi: 8.5cm height x 7.5cm diameter. Volume: ~200ml
Please note – all pots are sold individually and are individual pieces, so if there is a certain pot you would like or if you would like to look at our whole selection please email us at info@postcardteas.com. If a pot is out of stock it may take up to 4 months to have your cup handmade and shipped to you. The shapes and colours may vary.