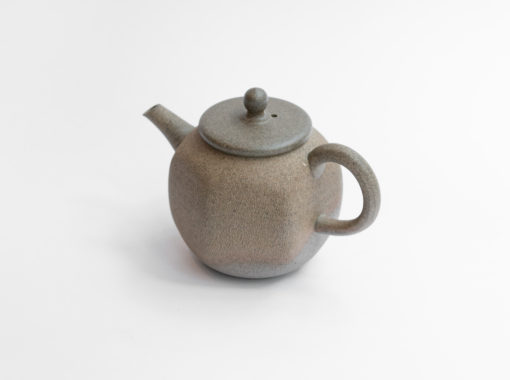 Seiji Ito Teapot E
A handmade teapot made by master craftsman Seiji Ito in Tokoname in Aichi, one of the most important centres of pottery and teaware in Japan. Mr Ito has been making teapots for over 30 years and has created innovative new styles and shapes using his own blends of clay that reference Tokoname's past but also point towards a bright future for the area. Recently he has had several successful exhibitions of his teapots and teaware in Taiwan and China, where many of the shapes for Tokoname teaware originate.
This hexagonal bodied teapot is a superb example of a yohen tokoname pot, which means it has unique patterns brought about by changes in the kiln. The appearance of the clay moves between light and dark grey with subtle red and orange rings running round the pot depending on where in the kiln it was positioned. The texture of the pot is stunning with vertical cracks in the clay giving it the appearance of aged leather or tree bark.
This teapot can be used across all tea types but we particularly recommend trying it with Japanese greens, lightly oxidised oolong and young puerh.
Dimensions: 8cm (h) x 7cm (w) x 12cm (l – from spout to handle)
Volume ~180mls