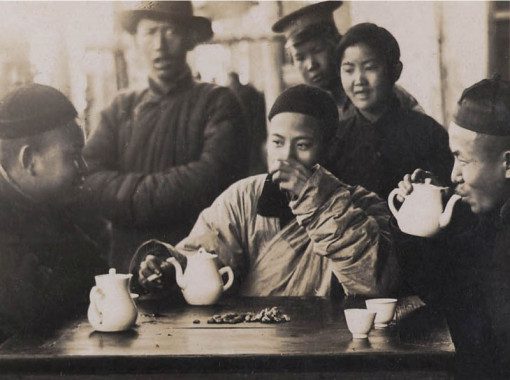 Master Xu's Da Hong Pao 大红袍 2015
A roasted yancha (rock tea) oolong from the inner Zhengyan area of the Wuyi Mountains in Fujian made by Master Xu, the maker and one of the guardians of the Da Hong Pao mother trees. This tea comes from Jiu Long Ke (Nine Dragon Nest) which houses the original Da Hong Pao mother trees that this tea is based on. Master Xu processes the leaves entirely by hand – from the picking and sorting, through to the kill-green stage and rolling. The roasting is done carefully at a low temperature (around 75 degrees Celsius) over hours, and often re-roasted over the course of many months until he is satisfied.
All producers of Wuyi oolongs will make their own version of 'Da Hong Pao', which is actually a mixture of various cultivars  blended to conform to a particular 'Da Hong Pao' taste profile. This is Master Xu's version of a house Da Hong Pao blend and is primarily made up of Qi Dan (descended from the original Da Hong Pao trees) and Rou Gui cultivars. Compared to most of Master Xu's other teas this tea is very fragrance forward with strong fruity and floral aromas from the wet leaf mixing with the roast. The oxidisation and roast level is medium to medium-high, slightly heavier than many other Da Hong Pao teas we have tried that are lightly oxidised to promote aroma at the expense of body and mouthfeel. The dominant flavours are very much the typical Wuyi yancha taste notes: rich chocolate, caramel and coffee, but cut through with a delicious apricot/peach sweetness and acidity that can be felt well after the tea has been drunk. Many infusions are possible.
ORIGIN
Master Xu, Jiu Long Ke, Wuyishan, China
SIZE OF FARM
2 acres
PLANTS AND PROCESSING
Camellia Sinensis Sinensis, mixed cultivar. Medium charcoal roasting. Harvested early Summer 2015.
BREWING
90-95°C, 6g per 150ml. 5+ infusions.