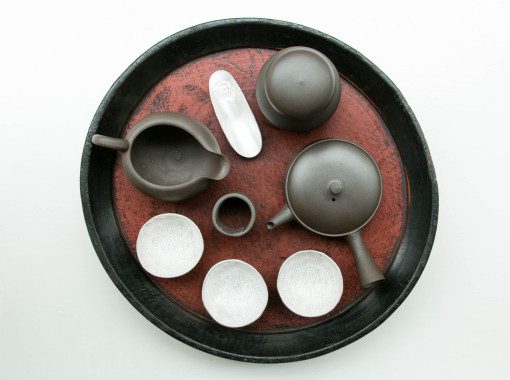 Seiji Ito Kyusu Set
A handmade kyusu set made by master craftsman Seiji Ito in Tokoname in Aichi, one of the most important centres of pottery and teaware in Japan. Mr Ito has been making teapots for over 30 years and has created innovative new styles and shapes using his own blends of clay that reference Tokoname's past but also point towards a bright future for the area. Recently he has had several successful exhibitions of his teapots and teaware in Taiwan and China, where many of the shapes for Tokoname teaware originate.
The basic version of this set comes with a kyusu pot and three tasting cups, while the full set also comes with a yuzamashi (cooling/pouring jug), a tea caddy, a tea scoop and a teapot lid rest.
This is one of Mr Ito's original designs which he specifically makes for gyokuro and fine sencha. The pot has a large, flat base which increases the surface area of the tea brewing inside, making it perfect for intense brewing of green tea at a low temperature. The cups and scoops are irregularly shaped and silvered on the inside with a pattern individual to each cup, while the outside has a diagonal lattice cloth-pattern scratched into the surface. The caddy is also silvered on the inside and can be used to store green tea to keep it fresh.
Dimensions: Kyusu – 55ml, 4.5cm height (2.2cm without lid), 8cm diameter
Teacup ~ 25ml to rim, 2.5cm height, 5.5cm diameter
Yuzamashi – 115ml, 4.5cm height, 7.5cm diameter, 11.5cm spout to handle
Caddy – 7.5cm height, 6.5cm diameter (at widest point)
Scoop – 8cm long, 3cm wide
Lid Rest – 3.5cm height, 3.5cm wide